Hey, Church Family! We've got some exciting news. There's a new, FREE money resource you and your family can use called Ramsey+. Together, we'll learn the proven plan to handle money, budget what God has given us, and track our progress so we can live and give like God wants us to—with outrageous generosity! Activate your Ramsey+ membership to get started on your debt-free journey today!
What We Have Accomplished...
As a whole, since we have offered Financial Peace University, members have paid off over 500k dollars of debt.
Proverbs 22:7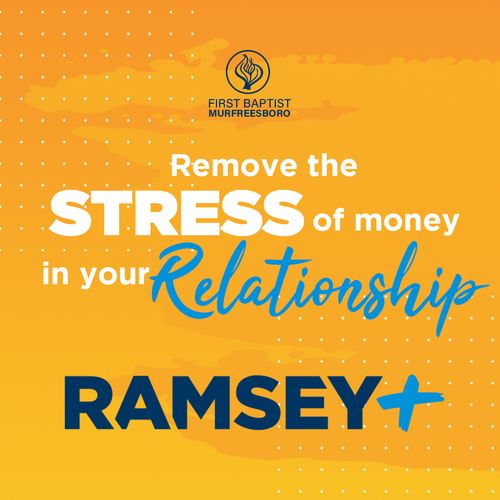 Over 60 couples and 25+ singles have dared to
do money differently than the "world".
Matthew 5:14-16
Our Vision Is To Be An Oasis of Dynamic Love…
For God so loved the world that he gave…. Can you imagine a loving world where Christians freely and outrageously gave to those in need without any financial burden to themselves? We can! In fact, we know that family trees are about to change and generosity will flow into all areas of life so the kingdom can feel the impact.
Membership to Ramsey+ resources include:



Jump Start: This includes nine 4- to 5-minute high-level videos overviewing a biblical approach to stewardship and money.
Financial Peace University Class: In this course, you'll learn how to pay off debt, save for emergencies, and invest in your future.
Every Dollar App: Without a budget, you can't succeed with money. With all the premium features of Every Dollar, we make it easy for you to take control of your money — for good.
Baby Steps App: See how fast you can pay off your debt and know the next right step for your money. You'll get customized tips and start crushing your goals.
Smart Money Smart Kids: This is a simple resource broken down by age ranges so parents can equip their kids in a biblical foundation and practical principles in the area of finance.
Legacy Journey: As you plan for the future, this tool will help you map out your long-range plans in generosity.
"I originally joined FPU to get a clear understanding of doing a 0 based budget. Now, because of the information shared and the wonderful people I have met as a Coordinator, I am on track to be completely Debt Free in 48 months."
"I was stuck going in circles, living paycheck to paycheck. I thought overdraft fees were a part of life. Because of FPU I was able to save $1000, I don't worry as much and I feel more in control of my present and future!"
"If you are hesitating if this program is for you, my only advice would be to sign up and put in the effort to make a change in your life. If you don't like it then you can easily go back to doing what you were doing beforehand."
"Being newlyweds, we knew that money problems were one of the main causes of divorce, so we identified a path towards financial freedom as important. As FPU graduates we understand that financial freedom is possible with intentionality, persistence, and faith".